Key Appointments
Colonel-in-Chief - His Royal Highness Prince Michael of Kent, GVCO, CD
Honorary Colonel - *position vacant*
Honorary Lieutenant-Colonel - Joseph Ouellette
Commanding Officer - Lieutenant-Colonel Gord Prentice, MB, CD
Deputy Commanding Officer- Major Dave Mimnagh, CD
Regimental Sergeant Major - Chief Warrant Officer Brian Jordan, CD
Acting Pipe Major - Corporal Alex Rocheleau
Regimental Major - Major (Retired) Greg Childs, CD, ESM
HRH Prince Michael of Kent, GVCO, CD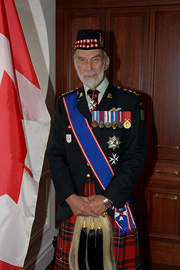 Prince Michael of Kent has been our Colonel-in-Chief since 14 November 2001. He visited his Regiment in Canada in March 2002, October 2007 and June 2009; and at Dieppe, France in 2012. On 19 October 2015 in London, UK the CO presented Prince Michael with his Canadian Forces Decoration (CD) for 12 years of service in the Canadian Forces. Prince Michael is a member of the Royal Family and a cousin to Her Majesty Queen Elizabeth II and HRH Prince Philip, The Duke of Edinburgh. His appointment follows that of his father HRH Prince George, Duke of Kent (1937-1942) and his mother HRH Princess Marina, Duchess of Kent (1942-1968).
Visit His Royal Highness Prince Michael of Kent online.
Honorary Lieutenant-Colonel Joseph Ouellette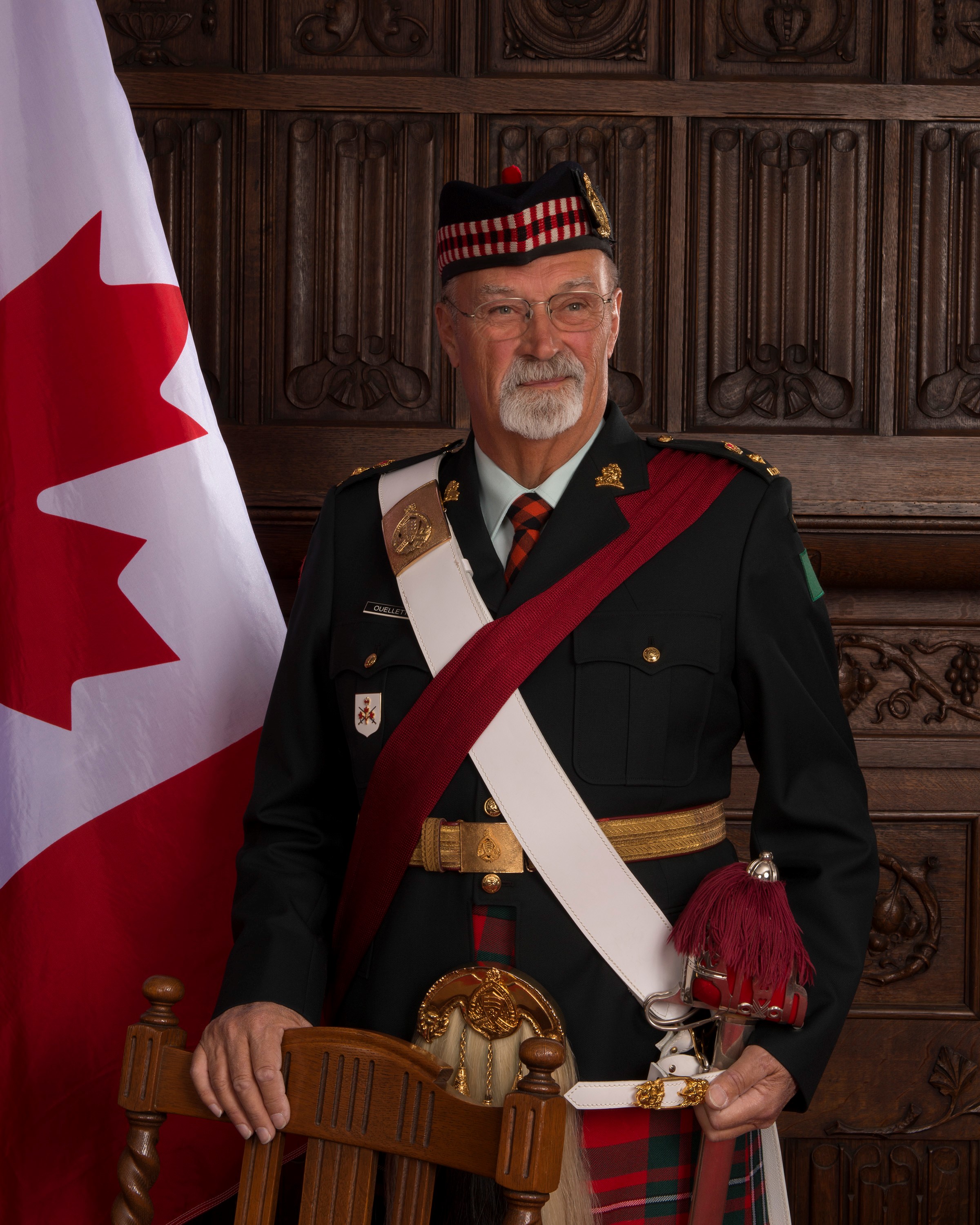 Joseph Ouellette is a lifelong resident of Essex County/Windsor Ontario. He is President and Chair of the Board of Acrolab Ltd, a heat transfer engineering company. His day-to-day role is Chief Technology Officer. Mr Ouellette attended The Western Ontario Institute of Technology with a concentration in electronics. He grew Acrolab from a small local process controls service company to its current position as a leading international research and development engineering company participating in projects worldwide in the heat transfer sector.
A firm believer in volunteerism, Mr. Ouellette has been a Scoutmaster, Venture advisor, Rover skipper, business mentor and educator. In the early 1970s, he worked with the Addiction Research Foundation as a group leader using the Scouts Canada model for teaching life skills to multiple drug dependent homeless adolescents. In the 1980s, as a member of the Chamber of Commerce he created and lead a highly successful program to enhance Windsor retail merchants marketing to combat cross border shopping. In response to US trade protectionism, Mr. Ouellette created and was the founding president of the Windsor Association of Mold Makers which grew to become the current national Canadian Association of Mold Makers. In his capacity as president, Mr. Ouellette testified before the US Trade Representative senate panel in Washington, DC to successfully argue Canada?s case in an unfair trade action brought by US mold makers.
Mr. Ouellette was the first Executive-in-Residence at the Odette School of Business, University of Windsor in 2002-2003 where he taught marketing and presentations skills symposiums at the MBA level. He was also guest lecturer at the Faculty of Education and the School of Nursing. He has lectured in Business English at the Lublin Business School in Lublin, Poland.
Mr. Ouellette was honoured with both The President's Medal, City of Lublin as well as the Medal of The Lublin Union, Provence of Lubelski for his work in twinning the cities of Lublin, Poland and Windsor, Ontario. He is also a recipient of the Clark Award, University of Windsor for his volunteer work associated with that institution.
Mr. Ouellette was the inaugural Officer Commanding Delta Company from 2003 to 2005, a group of civilians volunteers whose prominence in the community assists The Essex and Kent Scottish and informs the community on the virtues of the Regiment. Mr. Ouellette was appointed by the Minister of National Defence on 01 November 2017 as the Honorary Lieutenant-Colonel of the Regiment for a three-year term.
He resides in Windsor with his wife, Paula and has three adult children and two grandchildren
Lieutenant-Colonel Gord Prentice, MB, CD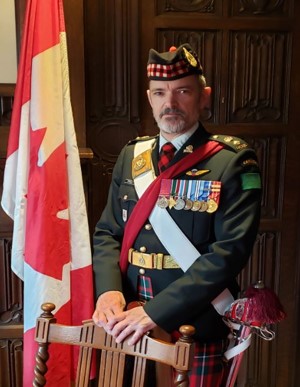 Lieutenant-Colonel Gord Prentice began his military career while attending high school in Chatham joining the local Army Cadet Corps (#59) in 1978 followed by The Essex and Kent Scottish in 1980. Following completion of infantry training and the basic parachute course he transferred to the Regular Force in September of 1983 and was subsequently commissioned as a 2nd Lieutenant and posted to 3rd Battalion, The Royal Canadian Regiment (3 RCR) Winnipeg in September 1984. He deployed on UN operations to Cyprus in 1986 as a platoon commander on the "Green Line"; he was awarded the Medal of Bravery for actions while on patrol in Nicosia. Returning to Canada, he was promoted to Captain and posted to Hamilton in 1987 as the Regular Force advisor to the Royal Hamilton Light Infantry. In 1990 a posting to London saw him assigned to HQ 1 RCR followed in 1991 by a posting to CFB London. After a short stint as a Military Observer in El Salvador, he left the Regular Force in 1993 transferring briefly to the Primary Reserves (4 RCR) before accepting overseas civilian employment with the UN.
In 1997 he rejoined The Essex and Kent Scottish and soon deployed as part of the 1 RCR Battle Group to Bosnia in 1998. Soon after returning to Canada saw completion of his Bachelor's degree requirements (Political Science) at UWO. After a leave of absence from the Primary Reserve to again accept UN civilian employment, he started long-term Class B (full-9time Reserve) service with The Essex and Kent Scottish in 2000. Promoted to Major, a tour to Afghanistan followed in 2003. On return to Canada, a new Class B was taken up at 31 Canadian Brigade Group (CBG) HQ in London where he was employed, with the exception of a Military Observer task to Sudan in 2007, in various staff capacities until 2010. Transferring back to the Regular Force, Maj Prentice was posted to what is now called Canadian Army Doctrine and Training Centre in Kingston and assigned to work on capability development issues related to the Canadian Arctic. In 2011 he was posted back to London as G3 of 31 CBG HQ where he remained until retiring from the Regular Force in 2016. He was then employed as a Reserve member of 31 CBG HQ assigned to specific planning functions primarily related to the Canadian Arctic until assuming command of The Essex and Kent Scottish on 28 September 2019.
He is married to Sanja whom he met in Zagreb, Croatia while working for the UN. They have two daughters, Maya 10 and Emma 9, attending primary school in London. A recent graduate of the Joint Command and Staff Programme, he is currently completing the final requirements necessary for award of the Master of Defence Studies at Royal Military College.
Chief Warrant Officer Brian Jordan, CD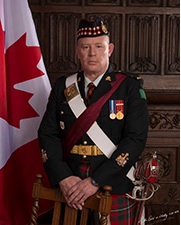 Chief Warrant Officer Brian Jordan was born in Wallaceburg, ON. He enlisted in the Canadian Armed Forces on 10 January 1985 and became a member of The Essex and Kent Scottish. CWO Jordan took a pause from the military from 1988 to 1996 to attend college and devote time to his family.
In January 1998, he was deployed to eastern Ontario for Op RECUPERATION to support those impacted by a historic ice storm in the smaller communities around Brockville, ON. Upon return, he was identified for his leadership potential and completed his Junior Leadership Course and Junior Non-Commissioned Officer Course. In summer 2001, CWO Jordan was promoted to the rank of Master Corporal while instructing infantry courses at Land Forces Central Area (LFCA) Training Centre Meaford. In 2003, he was promoted to the rank of Sergeant and was awarded the Queen's Golden Jubilee Medal in November. In October 2007, he was awarded the LFCA Commander's Commendation for exemplary service to his unit and the community of Chatham-Kent, ON.
In 2009, CWO Jordan completed his Infantry Platoon 2IC course where he was acknowledged as the top candidate and received the CD's Medallion as the top Sergeant in the unit that year. Promoted to Warrant Officer in 2011, he served as the Alpha Company Sergeant-Major for The Essex and Kent Scottish.
In 2013, after completing his Advanced Leadership Programme and Infantry CSM course, CWO Jordan was promoted to Master Warrant Officer. In 2015, he completed the "Four Days Marches" in Nijmegen, Holland with a team from The Essex and Kent Scottish and was appointed as a Guard Sergeant-Major for all ceremonial parades for the Canadian Contingent and was awarded the Canadian Contingent Commander's Coin for his efforts. CWO Jordan also served as the Training Sergeant Major for the unit responsible for the planning, development and delivery of all NCM Professional Development Training.
On 16 October 2016, CWO Jordan was appointed as the Regimental Sergeant Major for the Essex and Kent Scottish and promoted to his current rank on 1 July 2017. He is an active member of his community and is the local military representative for the Terry Fox Run, Habitat for Humanity and the GoodFellows Christmas Toy Drive as well as a Team Captain for the annual Big Bike for Heart and Stoke Foundation.
Major Dave Mimnagh, CD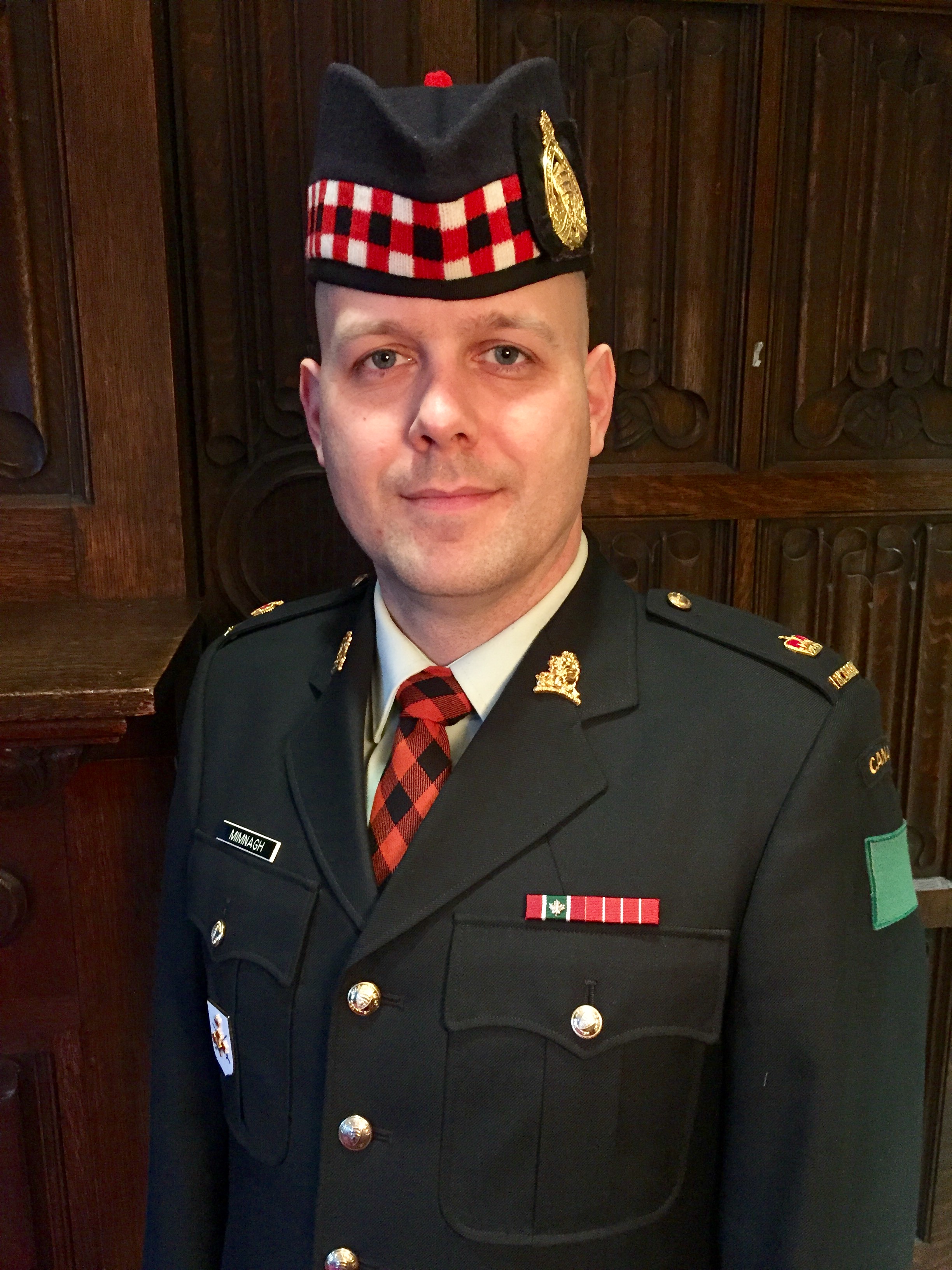 Major David Mimnagh was born in Kincardine, Ontario in 1982. In 2001, he moved to London, Ontario to attend the University of Western Ontario (now called Western University). He graduated in 2006 with a Bachelor of Science (Physics) and returned in 2008 where he completed a further four years towards a Bachelor of Engineering Science (Mechanical).
In 2002, Major Mimnagh enrolled in the Canadian Forces Primary Reserve with the 4th Battalion, The Royal Canadian Regiment (4 RCR). During his 11 years with 4 RCR he held the positions of Finance Officer, Platoon Commander, Rifle Company Second-in-Command, and Adjutant. From 2004 to 2006 he was employed as staff during Reserve Summer Training at the 4th Canadian Division Training Centre (Meaford), both as a Course Officer and Demonstration Platoon Commander. In 2010, Major Mimnagh was once again a platoon commander during Op CADENCE which provided security for the G8 Summit in Huntsville, Ontario. He has also instructed with the 31 Canadian Brigade Group Battle School on the Infantry Platoon Support Weapons Course, Primary Leadership Qualification, and the Basic Military Officer Qualification.
Major Mimnagh deployed to Afghanistan in 2012 on Op ATTENTION Roto 1 as the S3 Operations for the Kabul Military Training Centre Training Advisory Group. He completed the Primary Reserve Army Operations Course at the Canadian Army Command and Staff College in Kingston. In May of 2013, Major Mimnagh transferred to The Essex and Kent Scottish and was appointed as Officer Commanding Alpha Company in September 2013. In September 2018 he was appointed Deputy Commanding Officer.
Acting Pipe Major (Cpl) Alex Rocheleau
Biographical information is not available at this time
Major (Retired) Greg T. Childs, CD, ESM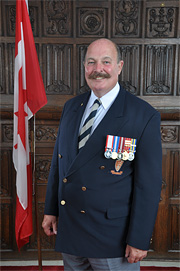 Born and raised in Chatham, Ontario Major Childs attended the John McGregor Secondary School, joining their Cadet Corps at an early age. On the recommendation of his father, an Essex Scottish WWII veteran, he joined The Essex and Kent Scottish Regiment (E&K Scot). As a Master Warrant Officer, he joined the Regular Army with the rank of Lieutenant for a limited engagement, then transferred back into E&K Scot. Major Childs has held the appointments of Platoon Commander, Company Commander, Regimental Major and Deputy Commanding Officer. For many years he was the CO's representative on the Regimental Association Board of Directors. Major Childs has completed 44 years of service with E&K Scot and retired in August 2010.
After 33 years service, he is a retired Detective from London Police Force as a Forensic Identification expert investigating homicides and other major crimes. He was a bomb-disposal Sergeant for 20 years, instructing frequently at the Canadian Police College. Police Sergeant Childs was the protocol officer for London Police.
He is married with two adult children.